For three days after death, hair and fingernails continue to grow but phone calls taper off. – Johnny Carson (1925 – 2005)
A few days back my team mate Sushmita said I looked good only when I didn`t use the costly hair gel (at Rs 350 per 100 grams) I had bought. If only she had said it a week back, I wouldn`t have wasted my Rs 350/- on the pack. One can`t really take the word of a 20 odd years old girl`s words at face value, especially if she belongs to your team.
I like people talking about me (why else would I blog?) and I thought my hair would make a great at-the-lunch-table discussion. Needless to say, I brought up the topic during lunch.
"So, how do I look without the gel today?" I asked.
Right when I had a few eyeballs looking my side, Naarayan butted in: "Did you guys see NDTV? They spotted a tortoise in the Crocodile Park?"
I know it is hard to believe but everybody responded to Naarayan`s question and ignored mine – a clear case of the tortoise winning over the hair.
A less strong-in-the-heart man would have found it difficult to get back the focus back to the hair but I did.
I looked at Leena (a good friend at work) and said: "Did you know, somebody told me that I look better without the hair gel."
"Don`t tell me you went to the Helen Keller institute yesterday!" The giant conversation killer had struck…my second attempt at brining up hair-talk was buried deep.
This is the advantage of having born in a military family – one never gives up. I looked around…Aparna seemed a vulnerable target. She was busy with her Musk Melon juice. I hate juice. Wonder if that puts me in the league of people like Hitler, for he also hated juice. At least that`s what I had read in the history books.
I looked at her for a while – she did seem the right target. 
"What do you think about my hair, Aparna?" I asked.
"Hair today…there tomorrow." Philosophical. Wonder if Musk Melon was Socrates` favorite fruit.
Like I have said before, it takes great courage to get up each time somebody piques you and yours sincerely has loads of it.
Ramesh had finished his lunch and was having his sweet. He seemed to be in a good mood, and perhaps that`s why I asked him: "Ramesh, my hair?" Even as I let out the words, I pointed towards my locks.
"OK."
"Just ok?"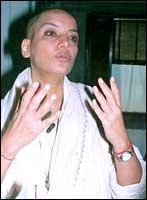 "Well, they are long." It was Ramesh at his sarcastic best, because I now have hair that`s as long as that of Shabana Azmi in the Deepa Mehta movie Water.
"Long? No way!" I protested. I don`t like the script going against me. I stared at Ramesh for a while, but he had the final word. He said: "Must have been quite a hair rising experience."
I nodded and looked away. I can`t mess with my Delivery Head, can I?
That`s when Amreetha looked up and said, "Jammy, I totally understand your concern."
"What concern?" I demanded indignantly. 
"Your hair…"
"What about my hair?"
"Those are hair to dye for…."