Much before folks in the Internet space discussed 'share economy' over drinks, and much before it was cool to use products such as Airbnb, BlaBlaCar, Fon etc. there were 'hand-me-downs'.
This is the story of how the first version of the 'share economy' played out in my life.
Here goes…
I think it all started when I was growing up too fast for the comfort of my parents.
Before I tell you how me growing up troubled my parents, let me tell you how I interpreted my growth.
For long I didn't realise that I was growing up.
I thought my clothes were getting smaller.
That's why I kept my red and white shirt (one that I proudly wore when I was four years old) for two years thinking someday it would shrink enough to fit my brown teddy bear (yet another hand-me-down).
Alas, it never did.
Since I was growing up fast, my parents bought clothes for me only on Diwali and on my birthday – on April 26.
They ensured at least one well-fitting pair every six months.
Due to their this strategy, any given day I owned two sets of clothes – one that was a perfect fit and another that I couldn't go out in.
The hand-me-downs begin
When I was five years old, I came to know that I had older cousins, staying in different parts of Madurai, Tamil Nadu.
Eventually, we started meeting during summer vacations.
And I started getting the hand me downs.
My cousins would pack their old clothes and toys in an airbag (that's what our parents called their travel bags) and pass them on to me.
My parents wouldn't let me open the bag in front of my cousins fearing I would immediately get into a war dance and embarrass them.
Needless to say, that night I wouldn't be able to sleep.
I would stay awake wondering what kind of clothes were inside the bag, what toys were waiting to be picked up, what coloured shoes were available to be worn.
Thanks to my cousins, I used to have a choice while going outside or staying at home and playing with my toys.
With time, I also started sharing my clothes and toys with younger cousins.
Sharing felt good because I knew exactly how I had felt when I used to get the treasure trove.
Uncles start chipping in
When I grew up and became a teenager, I started getting hand-me-downs from my uncles.
Now, my uncles would share their shirts and trousers with me.
Sometimes, it would be part of the yearly ritual and on other occasions, it would be a specific request.
Like the instance when I had to participate in a debating contest at LOSA competition (conducted by Lakshmi Old School Association every year) at Madurai and needed a good trouser to go with my black shirt.
"Saravana mama, I need help." I approached my uncle.
I had been eyeing his stonewash jean for some time now.
He had recently finished his BSc Forestry from Tamil Nadu Agricultural University, Coimbatore and was looking for a job.
"Tell me, Rajan."
"Will you be wearing your stonewash jean tomorrow?" I asked.
"Which one are you talking about? And why?"
"The white stonewash with black dots? The one that has 'Love is sweet poison' written on both sides of the trouser?"
Mind you it was 1991 and we were talking about a stonewash of a college grad, so 'Love is sweet poison' can be excused.
"But why do you need it? I wore it yesterday and it is dirty."
"I am participating in a debating contest tomorrow and will be on stage. I need a good trouser to go with my black shirt."
That's all my uncle needed to hear.
He asked me to come by in the evening and pick it up.
When I went to his house at 7 pm, he was ironing it for me.
I didn't win the debating contest, but the pride with which I stood on the stage that day was enough – I had already won.
I never returned the stonewash, and he didn't ask for it either.
I get a hand-me-down moped
When I joined college, I asked my father for a TVS Champ.
Back in the mid-90s, if you were a cool dude in a Tamil Nadu college, you rode a TVS Champ.
If you were filthy rich, you had a Hero Honda Splendor…but lets not jump ahead of us.
Since my parents couldn't afford a TVS Champ, they resorted to their tried and tested trick.
"Why don't you try the public bus for the first year and if you score well you get a TVS Champ?"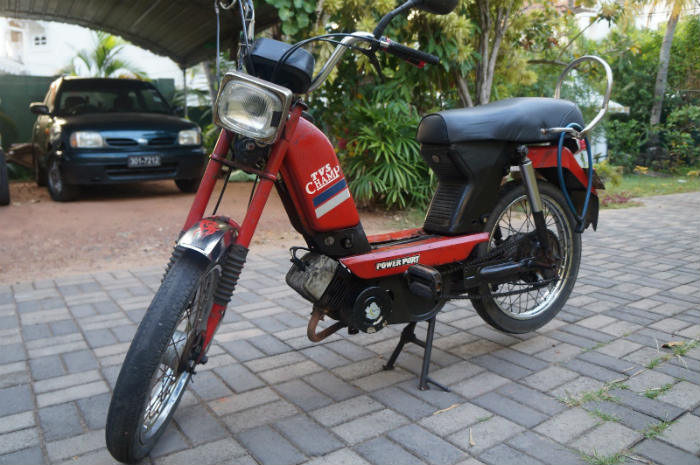 Since I didn't have an option I agreed.
Next year when my parents still couldn't afford a TVS Champ for me, I was disappointed.
One of my uncles stepped in.
"I heard you are pretty upset with your parents over a TVS Champ?" He asked.
"Yes, uncle. They promised to get it for me this year. I know that it costs a bit, but they shouldn't have given me the hope. Right?" It was my teenage angst.
"I am planning to buy a Hero Honda Splendour. Why don't you use my TVS 50? It may not be what you want, but it still is something," he said.
If the sun was coming out of the clouds, it surely was very bright.
"Sure uncle. So how much do my parents have to pay?"
"Let us just agree that you will not ask your parents for petrol money."
He had the patronizing look in his eyes, which I loved.
For don't we all want Godfathers to spring out and help when we need them?
TVS Motors had launched India's first two–seater 50cc moped called TVS 50 in 1980.
TVS 50 wasn't as classy as TVS Champ, but like my uncle said it was something – it felt as if I had arrived.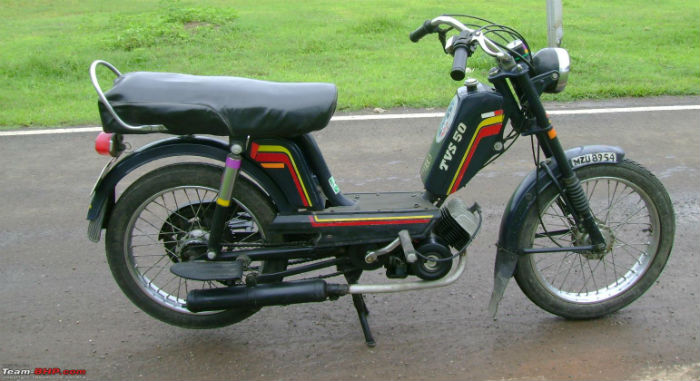 I rode the 15-year-old moped to college often.
Due to lack of petrol money the TVS 50 would be parked most of the time, but it felt awesome to have a moped of my own.
When I almost breached the hand-me-down code
With time, I finished college and started working.
Now, I was earning and still using the same TVS 50.
It is surprising how your wants come down when you have to figure them out yourself.
I had been working only six months when I got a call at my office landline from a cousin of mine who was still in college.
He was point blank: "I have sports day at college tomorrow and my sneakers have given up. Can I borrow yours?"
In a momentary lapse of judgment, I told him: "How about buying new ones. I only have one."
My cousin didn't say anything. The phone went dead.
It didn't take me long to figure out that I had made a mistake.
I had broken the code of hand-me-downs.
If you have joined this club once, you can never refuse.
I knew he wouldn't be rushing to the showroom to buy new sneakers anytime soon.
Next day at 7.30 am I was at his home.
He was getting ready for college and he was holding an Action shoe which had run its course.
In my hands, I had the relatively new Lotto sneakers my father had helped me buy from the CSD canteen.
As I gave him the sneakers, I said "Here, take it."
I didn't display any emotion.
I couldn't afford to display the 'big brother' emotion.
It was part of the hand-me-down code.
At that moment, me giving him the Lotto sneaker meant the whole world to my cousin.
He gave me a big hug and at that moment I knew that I had bought his soul with this small gesture.
After the event, he called to ask when he could visit to give the shoes back.
I knew he needed it more than me, so told him I was traveling and would collect it later.
This give and take went on for some time.
Thanks to the growing economy and excellent job opportunities in different cities the big, almost-joint family drifted apart.
Or is it that only I drifted apart and all others are still in touch?
Perhaps, I would never know.
Unfortunately, today hand-me-downs are looked down upon.
They are only supposed to be for those affected by floods or earthquakes – they aren't supposed to be for cousins, brothers, and sisters.
They aren't supposed to be for friends and neighbors. Quite a shame, really.
That's a lot of happiness, bottled down. So much treasure, undiscovered.