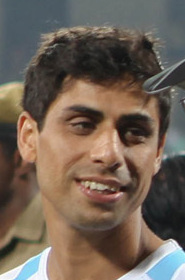 Ashish Nehra is a very good bowler, but he also has a knack of taking away the cricket game from his team's grip in the very last over. Maybe that is why there are lots of funny Ashish Nehra jokes.
We have tried to compile some of them for you here:
Joke 1: Loving someone who does not love you is like batting when you need 37 runs in 6 balls. You know its impossible….but you still have a small hope that Ashish Nehra will bowl the last over
Joke 2: Mere dil mein hai jhakam itna gehra…
Mere dil mein hai jhakam itna gehra…
Jo, jeeti hui match hara de, wo hai Ashish Nehra…
Joke 3: Dabangg's dialogue re-said by DHONI: "Afridi aur Akhtar se darr nahi lagta saahab Munaf aur Nehra se lagta hai."
Joke 4: Indian fans to Team Pakistan: Doodh mangoge….chalo de denge…khud bana lena kheer. World cup mangoge…de denge Nehra…sir khujaate rehna phir…
Joke 5: Ab to har ghadi ye dil darega
Ab to har ghadi ye dil darega
Kya Pakistan k against last over Nehra karega?
Joke 6:
Dhoni's MOTHER: Market se sabzi le aao.
Dhoni: Par Ma me kal match haar gaye na , to log bahut gusse me hain!
Maa: Meri sari pehenkar jao, koi nahi pehchanega Market mein
//Dhoni gaya//
One Gal: "hi dhoni" !
//Dhoni shocked//
"Kaise pehchana Gal?"
"Abe mein Nehra!"
Joke 7: The good thing when Nehra is bowling is that he's not fielding… the bad thing when he is bowling is he is bowling!
Joke 8: Behind every successful batsman is Kamran Akmal. But in front of them is Ashish Nehra!
Joke 9: Couple silent in bed. Wife thinks. Why is he not talking to me? Is he thinking of another woman? Is he seeing someone? Don't I appeal to him anymore? Are wrinkles showing on my face? Is he trying to dump me? Have I put on weight at the wrong places? Does my make up repel him these days. Is he upset with my nagging? Why? Husband thinks: Why in the hell did Dhoni give the last over to Nehra!