It looks like my uncle`s tonsure in Tirupathi has borne fruits. My long pending wish of traveling by the Kingfisher Airlines has almost materialized; I am taking the 6.50 a.m. flight to Mumbai tomorrow – for the Yahoo! joining formalities.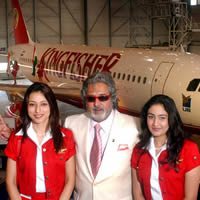 I have been looking forward to traveling in Kingfisher Airlines ever since Rekha`s colleague`s husband traveled in it. If I am right, he exaggerated his Kingfisher Airlines experience to his wife, who promptly re-phrased it for Rekha…needless to say my wife added masala and delivered I to me.
Thanks to all the build-up I now strongly believe that Kingfisher Airlines` air-hostesses hold the passengers by their arm and lead them to their seats, whisper sweet nothings into their ears so that next time also they buy travel by the same airlines, wear bikinis, and sing and dance for the passengers.
I doubt if I will be disappointed. I am back from Mumbai on Friday evening…expect a review of the Kingfisher Airlines – with a lot of masala.
If you are Vijay Mallya we ask for your forgiveness…we didn`t know you read Ouchmytoe.com. How could we ever make fun of the guy who gave the whole of India its best beer – Kingfisher!
Other High Reads
I have arrived. At the airport
I have never sat on an airplane
Cheap airlines and cheap thrills
Traveling – the things we will miss in future